This post is dedicated to Christina for reminding me I have this blog.
Hey gang – it's been a minute. If you've ever followed along with the Single Girl Diaries, you're probably wondering if I haven't posted all this time because I'm no longer single. The answer is: lol I'm still so single. Just haven't had any good stories to tell.
The past couple of years have looked a little different for me. I left New York in December 2018. Not news, news. But quite a few people ask regularly how life is going in the big city only to be shocked that I've been in Tulsa, Oklahoma (the Paris of Oklahoma) for a year and a half working as a content editor for a professional bass fishing company. Wild, I know. And to make matters even more confusing, I've been hanging at my parents' home since March while my office in Tulsa shut down for the coronavirus. You can take the girl outta the Midwest, but suddenly the girl is back in the Midwest.
Now back to what you're all really here for: Ellise's dating life. As you can imagine, new town, new me. I opened the Tinder and Bumble – even gave Hinge the old college try. I deleted them all within four months. I'm not sure what it is about dating apps, but I…hate them? Everything just feels so superficial and it makes me dislike myself for judging others based solely on their ability to take a decent photo and throw around The Office references.
But to play the devil's advocate, how on God's green earth do people meet organically these days? I'm in a new town with few friends almost entirely from work. I go to work, I go to the gym, I go home. When I'm out with friends, I'm so focused on spending time with my friends that I'm not on the lookout for my soulmate, so do I just get over it?
Thus, I haven't been on a date since 2016 (read about it here). We're rockin' and rollin', folks.
While catching up with a friend and discussing pandemic dating (or lack thereof), he hit me with a fresh perspective. I was complaining about how un-fun first dates were because anxietyyyy. But he reminded me that the date is someone I never have to see again, which sounds so simple, but it hadn't really clicked with me before. I am mo·nog·a·mous, so dating feels so wrong. But reminding myself I'm not in a committed relationship after one date helps mute the insecurities.
The good news is that I'm annoyingly independent and have minimal desire to "date." I'd much rather skip to the part where we're watching movies with takeout and farting in front of each other.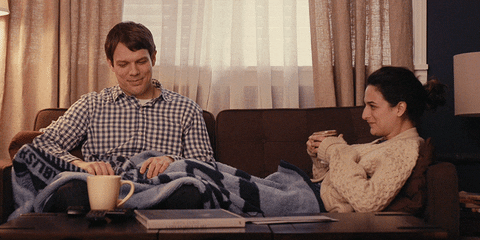 I promise I do have the intention of dating. At some point. I need to get y'all the content. It just turns out adjusting to a new state and a worldwide pandemic isn't the ideal time.
So keep your pants on, stick around and I'm sure there will be plenty more self-deprecating tales to come. I may even be working on another juicy post (lol not juicy at all) as I type this, so keep an eye out.
xoxo, single girl